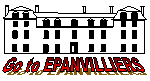 The owners story
On this page I will keep you posted on my efforts to save the beautiful castle of EPANVILLIERS. I will also tell you all about the difficulties I have with the local administration, the township and the local ministry of the historical monuments of France. I will also talk about the former owner, who still has a right of use of the castle. This is an excitingly complicated story as I am a Swiss citizen living at an 9 hours drive from the castle of EPANVILLIERS, which is in the heart of France.
This is how the buildings belonging to the castle looked when I bought it in 1995: ruins
After 5 years of work and and investments of over 1'000'000 French francs the right wing building was saved from ruin by placing a new roof. This work was done by KERTO in Finland, MILLET BOIS of Cholet and Mr. Gatelier to my full satisfaction.
Not a dime of subsidies was received for these efforts in spite of an oral engagement by the local director of the ministry of culture for a subsidy of 20% of these expenses.
A very small subsidy covering only 20% of the expense for the tiles was granted finally in spring 1999. The ministry of culture indicated to me, however, that I will loose this subsidy too, if the work will not have been done and approved by the end of the year 1999. A deadline almost impossible to respect in view of the fact that old tiles needed to be found for this job and that a prolonged period of good weather was necessary in order to glue the roman tiles to the under roof . I therefore immediately signed the order for placing the roman tiles.&nbsp There was a happy end to this story. The roof is now completely&nbsp covered and the subvention has been payed out to the local entrepreneur.
I tell you this story to make you realize that hundreds of wonderful castles in France are endangered! I have met many castle owner friends in France who made similar experiences - have you for instance heard the story of the castle of Sarzay near La Chatre? The owner, Mr. Richard Hurbain was taken to court by the French ministry of culture for having restored the medieval trench around his castle.

In spite of such obstacles a number of highly dedicated individuals keeps going on the titanic job of saving single handedly what has originally been built by a small number of very powerful and wealthy people - castles in France. During the past two years for instance I rebuilt 35 windows and 12 doors. All of the windows and doors used where reused material and in most cases of the nineteenth century or older. I mostly find such material when old buildings are being torn down or when people replace historic windows and doors by polymer material which is more convenient in maintenance.

Conservation of the existing building structure on the one hand. Conservation and reuse of building materials on the other hand to repair and maintain these historical buildings. This is my approach to translate the concept of sustainable development into realty. I am a physical chemist, having worked in the field of environmental sciences. I am a believer of the use of modern technology for changing our way of life and make it compatible with sustainable development. For doing the heavy repair work for instance I did not hesitate to purchased a small earth mover. This tool permitted me to lift and repair the 300 kg monolithic horse through which has been broken for over half a century.

If you understand French you will find a number of attached documents which I want to share with you.

At this place I would like to thank my sweet family for enduring my environmental castle craze!