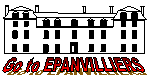 course#1 - Wood-work
BLOCK CONSTRUCTION OF DOOR FRAMES
First step is to calculate the resulting overall with and length of the frame while finding the best fitting door and playing on the dimensions of the grooves to find a fit.
Make drawings of your design and copy the measures on your beams. Always recheck the measures on the reused doors before doing a cut on the beams. Some doors of the early 19 century use quite different sealing systems as used today. Things can get quite complicated, for instance when the sealing surfaces around the door are not positioned on the same plane.
A high power construction saw with an up to 78 mm penetration depth is used. Always check all adjustments with the power plug pulled, attach a guide on the resting part of the beam to be cut. Make sure the part to be cut will move away from the saw without falling down on your feet. Simulate the movement before plugging the machine and make sure that your body is in a good equilibrium throughout the cut.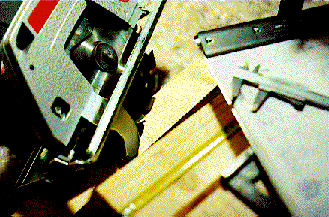 The side, bottom (some times none) and top grooves are then cut with a top milling tool. It is important to use high drilling speed and very sharp tools. Never do any tool changing or adjustment operation with the power plug in place. Feed direction is always in the opposite sense of the drill motion. Additional safety measures are the use of goggles and ear protection.
A gliding rail is adjusted for smooth drawing through of the beam. Adjustable laboratory jacks (lab boys) are used to support the beam at a distance. The beams are clamped down whenever the use of the x-y spindles are possible.
The ends of the grooves are always precut in this way before cutting the main length of the grooves.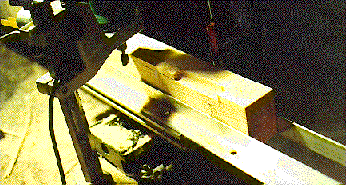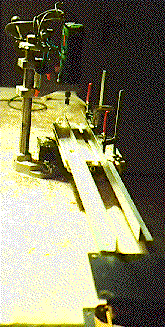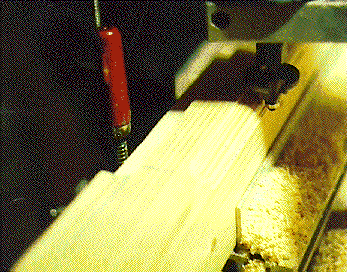 The grooves are cut by repeated movements of the beams across the setup and the depth af the bites depends on a number of factors such as the texture and hardness of the wood and the direction of the layerings. The initial cuts are always of very small bite (1/2 mm) in order to prevent splintering.