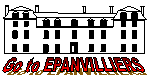 course#1 - Wood-work
BLOCK CONSTRUCTION OF DOOR FRAMES
After having finished all of the groves the beams are placed around the door and last check are done to the block construction incision measures.
The male parts are cut first. The male parts are usually placed in the bottom and top parts. The whole construction is thus held in place by the door opening and gluing of the construction is mainly for adjustment, mounting of the door and transport of the frame.
The inner cut (towards the beam) is always done first while closely observing the necessary dimensions and tolerances. The depth of the maximal cutting is adjusted before hand with an adjustable stop on the machine. The outer part is first removed with chisel and hammer (this saves energy and creates less saw dust).



The female parts are cut next with a specially long and narrow milling bit (see picture).
The male parts are rounded to fit into the holes with a tight fit.
Rather complex forms can become necessary when making frames for historic doors.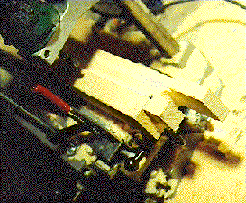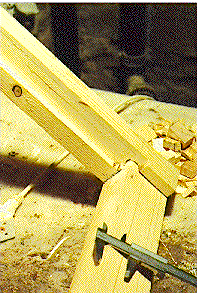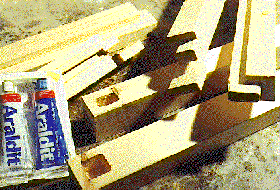 The frames are assembled around the door to check the fit and taken apart again to plane all of the wooden parts before assembly.
If hand finish is important, the planing is done by hand. This is recalling the fact that historically all surfaces were finished before the 19th century by hand planing. Indeed most profiles in wooden pannelings where cut by hand planing using specially profiled knives.